The Strategic Partnership between the Dutch Ministry of Foreign Affairs and VNG International is 5-year programme, focused on 4 thematic priorities: Security & Rule of Law, Migration, Local Revenue Mobilisation, and Integrated Water Management. This programme, called the Sustainable Development through improved Local Governance (SDLG) programme, is currently being implemented in 9 countries (Burundi, Mali, Palestina, Somalia, South Sudan, Uganda, Iraq, and Mozambique). <br />
[Pascale George 20-02-2023 17:00 (GMT +01:00)]<br />
<br />
On 21 April 2022, members of the Ukrainian Parliament Maria Mezentseva, Olena Khomenko and the Mayor of Melitopol Ivan Fedorov visited the Netherlands. On behalf of the Embassy of Ukraine, a meeting was organised at the VNG between Dutch mayors, aldermen and a Ukrainian parliamentary delegation to reflect and think of on the reconstruction of Ukraine.  
The Ukrainian parliamentary delegation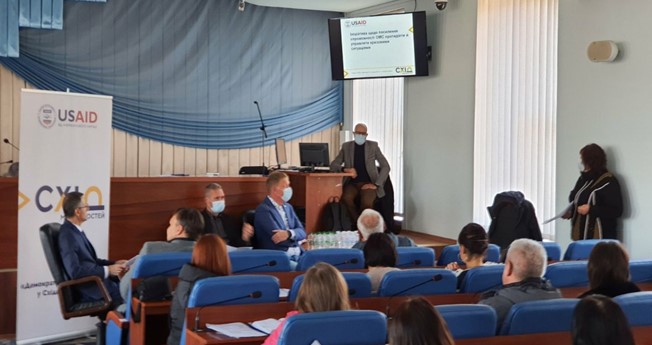 Nederlandse en Oekraïense gemeentelijke experts hebben met ambtenaren in Oost-Oekraïne gewerkt aan plannen om het crisis- en risicomanagementsysteem van 4 Oekraïense gemeenten te verbeteren.
DG East is a five-year, $57,051,252 contract that aims to strengthen the connection and trust between citizens and their government in eastern Ukraine by promoting good<br />
governance, accelerating economic growth, advancing anti-corruption efforts, and strengthening an inclusive civic identity. The project has the following objectives and<br />
sub-objectives (SOs):<br />
<br />
Objective 1: Greater acceptance of a shared civic culture based on common values and understandings<br />