Jul 01, 2019 - Sint Maarten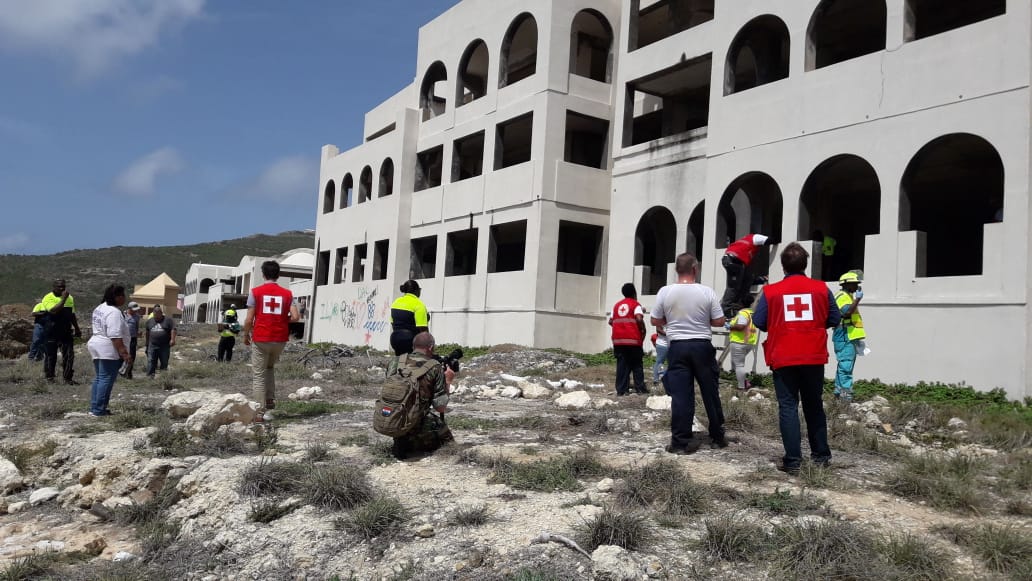 On the 25th of June VNG International supported the Government of Sint Maarten in organizing the largest Hurricane Exercise (HUREX) Sint Maarten has seen of yet. A total of approximately 160 government officials, including Fire Department, Ambulance, Police and the Marines, participated in the HUREX 2019. By simulating an actual hurricane scenario in real time, the full apparatus of Government and emergency services carried out all their tasks and processes in a disaster situation. This was the first time the Government and all emergency services carried out a full system test jointly.
The basis for the HUREX was laid by a preparatory workshop on Monday 24th to refresh all Emergency Service Functions' (ESF) sector plans. All 10 ESF groups participated, uniting staff from all ministries and emergency services. The session was followed up by a practical log training and a workshop for the Emergency Operations Centre, which is the strategic level, consisting of the ESF-coordinators, the National Disaster Coordinator and the Prime Minister.  
The actual HUREX that took place on June 25th consisted, for the first time, not only of an operational exercise, in which VROMI, Police, Ambulance, Fire Department and Marines carried out a simulated operation at Red Pond, but also of a full system test. This elaborate exercise aimed to practice management, coordination and performance of functional tasks, and to stimulate cooperation between the various groups involved. The simulation was as close to a real emergency as possible, involving all ESF groups and their equipment. Participants were responsible for completing tasks just as they would in a real event, scattered over multiple locations. Most importantly, participants needed each other to carry out their tasks. The exercise showed that the various services involved have greatly progressed since Hurricane Irma struck the island in 2017. 
Hurricane Exercises are carried out annually and are coordinated by the Sint Maarten Fire Department in behalf of the National Disaster Coordinator. This year the organization of the HUREX was supported by VNG International, the international cooperation agency of the Association of Netherlands Municipalities. VNG International assisted in organizing the exercise with a group of 10 experts, who assisted and observed, and also provided counter-play and a custom-made media environment to simulate media input.
VNG International has been supporting the Government of Sint Maarten in disaster preparedness since March 2018, and has worked continuously with the Sint Maarten ESF groups in updating sector plans and organizing table top exercises to put the plans into practice. The HUREX exercise was a crucial step to test whether all sector plans work in combination with each other. The evaluation of the exercise will be used to further synchronize all sector plans and the general disaster management structure in cooperation with the Government of Sint Maarten.