VNG International has successfully organized its validation workshop as a final step of the inception phase of its Sustainable Development through effective Local Governance (SDLG) programme in Iraq on May 31, 2022. This five year programme is funded by the Ministry of Foreign Affairs of The Netherlands, and implemented through VNG International Iraq office in Duhok.
In his opening statement, Mr. Seid Majid, the vice-Governor of Duhok, said that he appreciates the efforts of VNG International in Iraq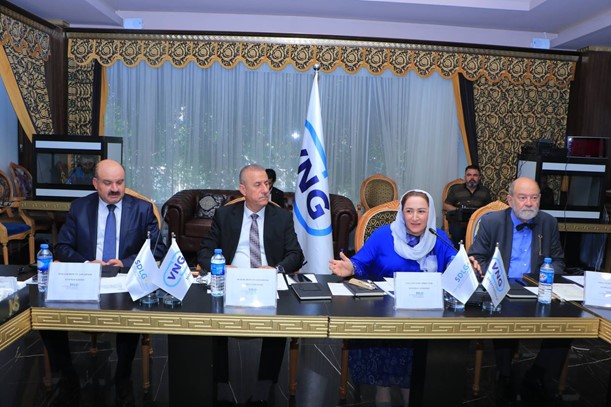 so far and is looking forward to continue our cooperation in this new programme. He furthermore showed his gratitude for the support provided by the Ministry of Foreign Affairs of The Netherlands through this important programme.
Mr. Ali Omer, the vice-Governor of Nineveh, stated that the issues around displacement remains to have a huge impact on the communities in his region. All citizens, from host, refugee, and IDP communities, are still dealing with the consequences of this displacement. He is therefore very pleased that VNG International will be implementing this programme in specific areas in Nineveh and stressed the importance of having a balanced programme with efforts both in the Kurdish Region of Iraq as well as in federal Iraq.
Details of the programme were then presented by VNG International's Associate Expert, Mr. George Hartman. After explaining which areas will be targeted by the programme, he gave details on the kind of interventions foreseen in each of these areas. These interventions were built on the overall SDLG approach, which includes working on improvement of service delivery while looking for modernization of the public administration and supporting leadership within local governments as well as supporting civil society in dealing with local government.
The discussions then concentrated on the importance of ensuring that these interventions will be sustainable. We explained that all our efforts are embedded in the local context and by developing the capacity of local governments, we try to ensure that sustainability of our efforts. In addition, it was stressed that climate change and its impact on water are of high priority for the local governments in all areas. We have indeed identified these aspects in our Political Economy Analysis and have taken this into account when developing our activities.
Based on the discussions during this validation workshop, VNG International will now finalize its SDLG inception report including action plan for approval by the Ministry of Foreign Affairs of the Netherlands. The team will also plan for the start of some of the activities and is looking forward to implement this important programme in Iraq