Project update:
VNG International has been actively supporting Ukrainian municipalities for many years. In September 2021, in the framework of USAID's Democratic Governance East programme, Dutch and Ukrainian experts conducted a two-and-a-half-day workshop on crisis management for working groups from Popasna, Severodonetsk, Lysychansk and Rubizhne – four municipalities in Eastern Ukraine. During the workshop participants worked on a methodology for the development of strategic documents to improve their municipalities' crisis and emergency risk management system and business continuity.
In Luhansk Oblast municipalities face a myriad of challenges and risks, ranging from environmental degradation, forest fires, to a lack of funding foremergency response, health crises and industrial accidents. These challenges are exacerbated due to the municipalities' proximity to the ongoing conflict in Eastern Ukraine.
In such a challenging environment training and exchanging ideas on how to assess the risks and challenges of crisis and emergency situations, and the specific role of local self-government in the management thereof is of fundamental importance. Therefore, participants discussed various national and international examples of risk reduction systems, learned more about volunteer recruitment systems, and methodologies to define and structure the objectives of a risk reduction and crisis management policy & action plan.
In the following months all four communities will continue to work with Dutch and Ukrainian experts on further advancing their policy and action plans.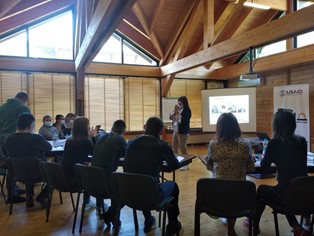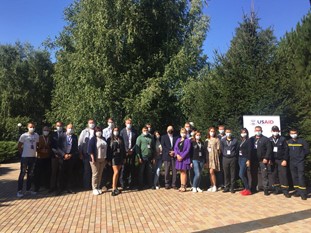 Contribution by Thymen Ballering. To learn more about our Ukraine programmes, contact:

Julia.westerveld@vng.nl
Stan.abma@vng.nl
Sanne.vanamerongen@vng.nl
Thymen.ballering@vng.nl
--
USAID's Democratic Governance East Activity is implemented by Chemonics International, with contributions from VNG International. Its purpose is to "to strengthen the connection and trust between citizens and their government in Eastern Ukraine" and methodology is to (1) [develop] greater acceptance of a shared civic culture based on common values and understandings, and (2) increase participation to improve Ukraine's governance and reform processes and help to resolve community problems.