On 17 May 2021 the Local Government Board (LGB) of South Sudan and VNG International renewed their Memorandum of Understanding under which they cooperate to provide support and advice to the Government of the Republic of South Sudan in the field of decentralisation and strengthening the capacity of local governments.
This MoU is signed as demonstration of an intentional long-term commitment of VNG International to support local governance in South Sudan; and concerns a prolongation of the MoU signed between the two parties in October 2016. However, the LGB and VNG International have been closely working together on local government issues since 2012 already.
Specific areas of focus under the MoU include supporting the development and implementation of the LGB's vision on local governance in South Sudan through capacity building programmes and activities for the LGB itself (e.g. on lobby & advocacy, strategic planning, leadership, service delivery, communication strategy, peace building, local governance, intergovernmental relations, study tours).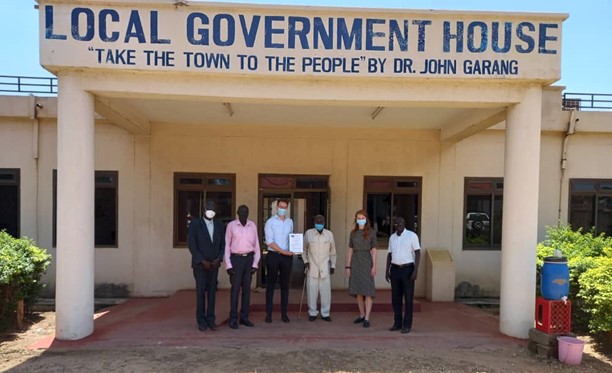 On the picture: Two representatives from VNG International, Sanne van Amerongen and Thymen Ballering met Chairman Hon. Clement Khamis Komoyang, Dept. Secretary Del Rumdit Deng, and Maluony Akau of the Local Government Board, as well as representatives of GIZ and the Ministry of Water Resource & Irrigation.