As part of the learning agenda of IDEAL, one of VNG Internationals programs financed by the Dutch Ministry of Foreign Affairs, a conference bringing together 5 African Local Government Associations (LGAs) was organized from the 25th until the 27th of November 2019 in Bamako, Mali.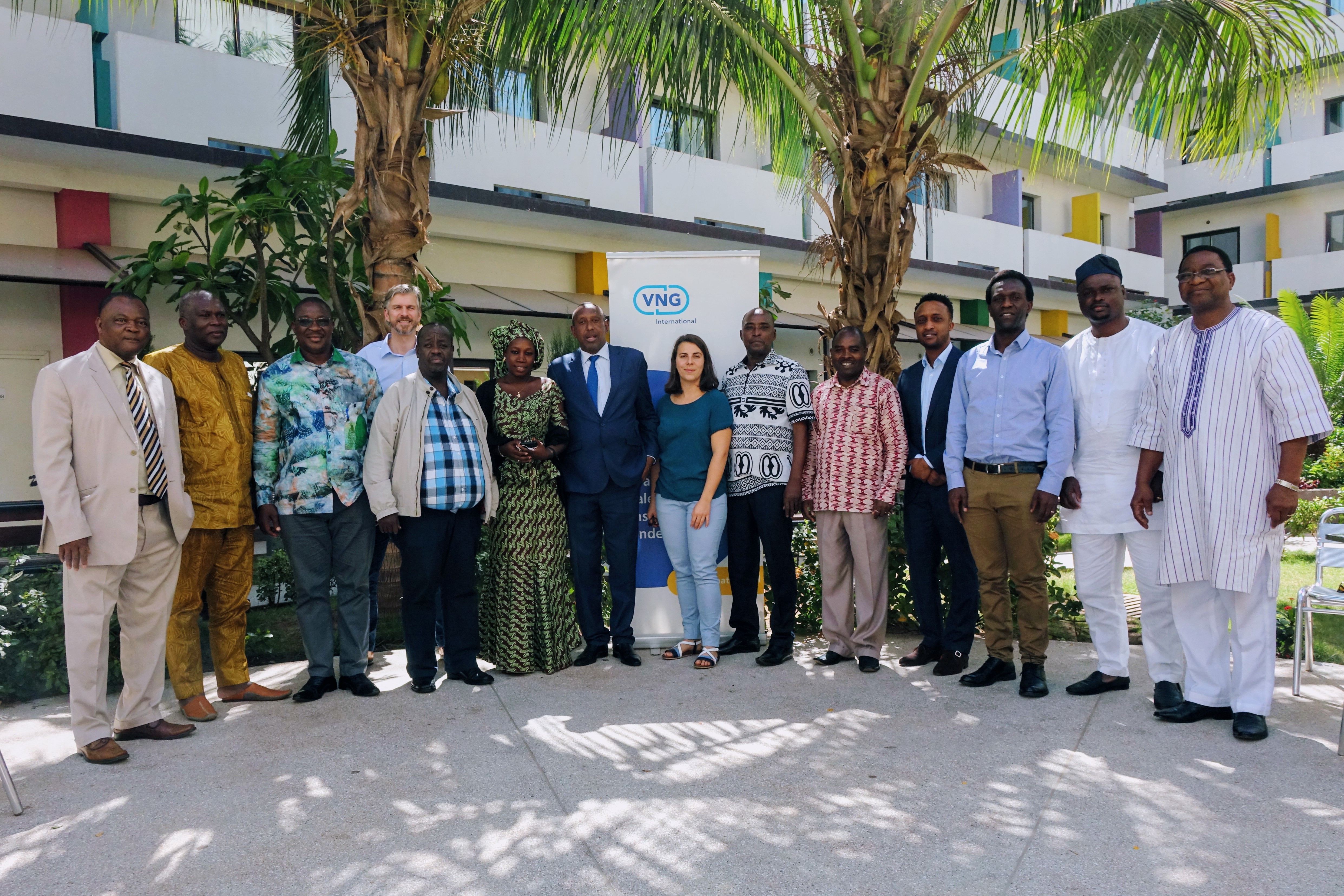 The LGAs represented included Benin, Burundi, Burkina Faso, Mali and Rwanda and a representative of United Cities and Local Governments (UCLG West-Africa) joined us as well. The conference provided a facilitated platform for the LGAs to exchange on their good examples, challenges and priorities. Different examples were shared and discussed, for instance the promotion of inclusive governance (Burundi), practices of lobby and advocacy (Rwanda and Benin), the experiences of creating/organization of an LGA and the membership system (Burkina Faso), but also the collaboration between LGAs and donors (Mali). UCLG West-Africa brought in its extensive experiences in working with different LGAs across Africa.
Throughout the conference participants were asked to identify common challenges and to formulate recommendations. On the issue of LGAs being seen as political agents by donors, it was recommended to all LGAs to use non-political (neutral) language towards the donors and to improve their profiling by focusing more on the unique added value of LGAs in international development. For the non-visibility problem of LGAs, it was suggested that they should improve their mechanisms of accountability and communication to their members. When it comes to the cooperation with the donors, the participants agreed that the discussions/ partnerships with the donors should always be guided by the LGAs strategic plans.
The conference was also an opportunity to analyse the uniqueness of LGAs in international development agenda. The participants claimed that LGAs have high legitimacy to represent the interests of the communities. They are close to the municipalities through the services they provide to their members that no other organization at the national level can offer (i.e. representation and defence of municipal interests). LGAs are the ideal framework for sustaining and scaling up of good practices. They have a better understanding of the problems and needs of municipalities than most actors, thanks to their information collection system. Furthermore, they are well informed on the decentralization processes and actively monitor its implementation. They can easily advocate for change in governance laws/policies and highlight the need to improve/change the institutional framework. Finally, LGAs have privileged links with municipalities and the national government.
The conference ended with an identification by each LGA of a lesson learned/best practice from another LGA that can be applied once back home. Action plans to be implemented next year were made and each action starts with a visit to another LGA to further study the identified best practice. An evaluation of the action plans is planned during the second half of 2020.