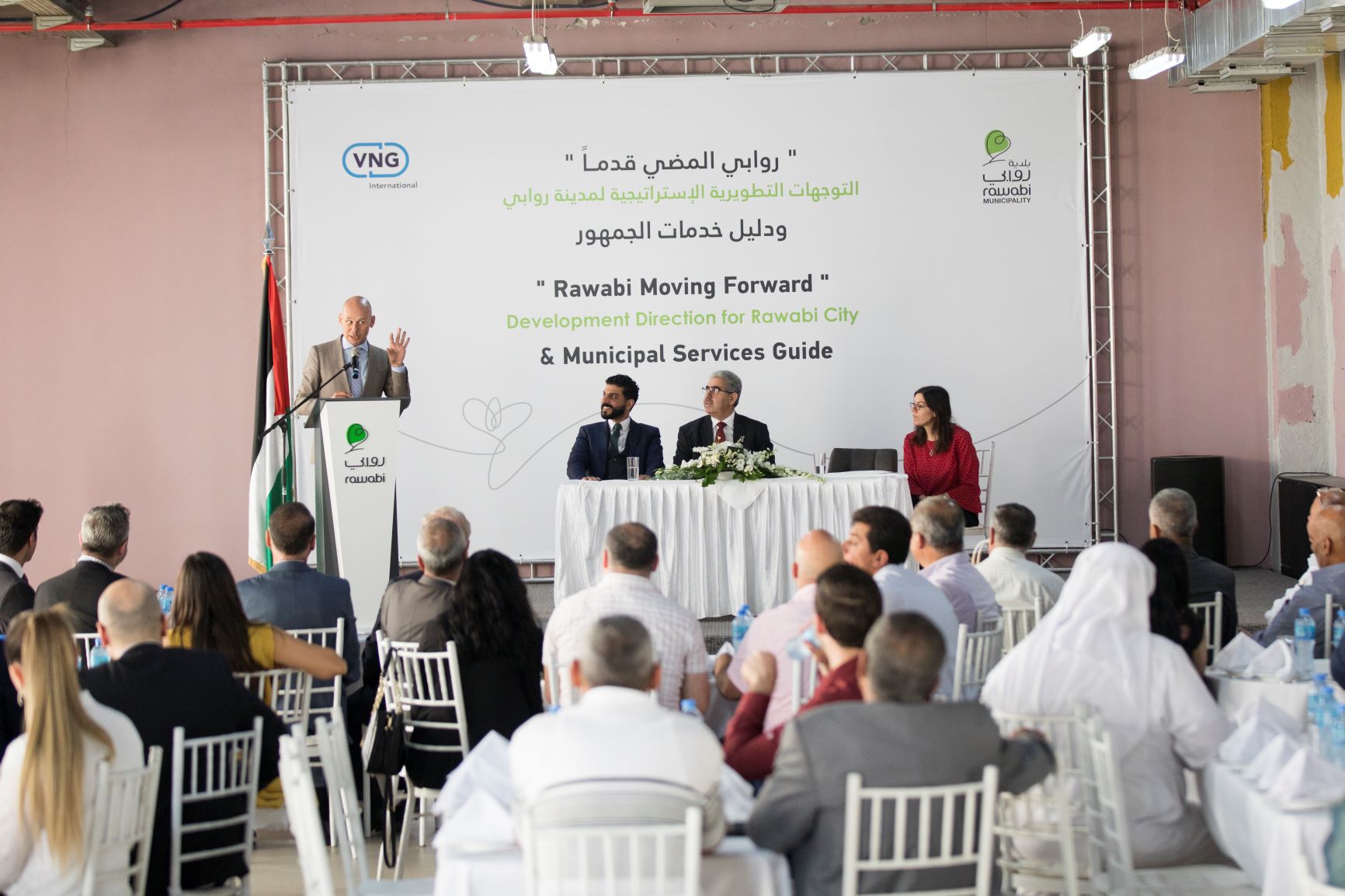 Mr. Ibrahim al-Natour, mayor of the municipality of Rawabi, presented his town's long-term development and citizen engagement priorities in a formal ceremony on Thursday June 20. The Strategy and Citizens Service Guidebook are Rawabi's first ever documents describing how the city should transform itself from the biggest development project ever in the Palestinian Territories to a functioning city that puts its citizens first.
The Strategy, titled Rawabi Moving Forward, and the Citizens Services Guidebook were developed with the support of VNG International as a part of a cooperation agreement signed between the two parties in November 2017 and which is financed through the Netherlands Ministry of Foreign affairs funded Inclusive Decisions at Local Level (IDEAL) programme. The agreement included exchanging technical and practical experiences in the field of developing new cities and the services provided to the residents of those cities.
During his speech at the ceremony, HE. Kees van Baar, Netherlands Representative  to the Palestinian Territories, stated that the Citizens Services Guidebook marked the success of this partnership that has been going for more than five years, adding: "that VNG International is interested in continuing this cooperation to achieve more achievements both parties are seeking in this ideal city. Mutual benefits and exchanging expertise profits both sides." The Citizens Services Guidebook includes the services provided by the Municipality, procedures to apply for them and the necessary documents needed, all provided through the Citizens Services Center in accordance with unified standards that ensure high quality services, efficient and easy service delivery.
The launching ceremony was further attended by the Palestinian Deputy Minister of Local Government, Mr. Mohammad Jabareen, the founder of Rawabi Mr.Bashar al-Masri, the members of the Rawabi municipal council, mayors from neighboring towns, and Mr. Nasser Shaikh Ali, VNG International Country Director to Palestine.  
From their side, both al-Masri and al-Natour praised the Dutch-Palestinian partnership, stressing that launching the Citizens Service Guidebook came within the municipality's vision to provide integrated and renewable services to the city's residents and visitors. Al-Masri called on other municipalities to benefit from the international expertise as Rawabi did to serve the citizens, adding: "from the beginning we were confident of the importance of having a municipal council and that's why we established one from the beginning to operate as it should be in serving the city, the residents, the workers and the visitors".