Anne Marie, 41, is a disabled woman and a member of the Communal Community Development Committee (CCDC) in Buganda commune (Cibitoke province, Burundi) and was admitted to the ''We Are Able!'' (WaA!) programme.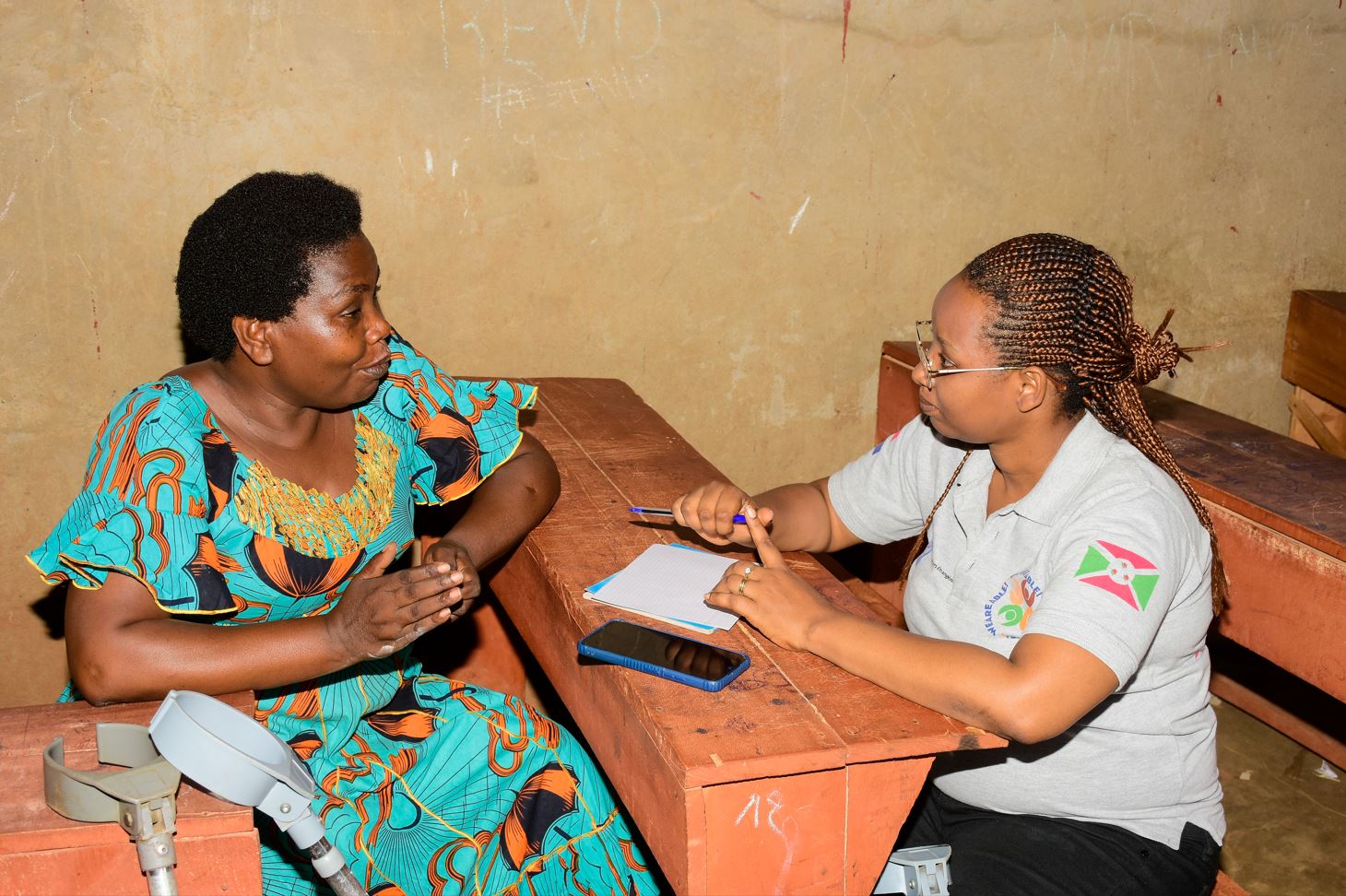 We Are Able!
We Are Able! (WaA!) is a five year program (2021-2025) being executed in six African countries (Burundi, DRC, Ethopia, Sudan, South-Sudan, Uganda), funded by the Dutch Ministry of Foreign Affairs. The program focuses on empowerment and inclusion among people with disabilities (PWDs), particularly those faced with food insecurity. The objective is that by 2025, through engagement with public authorities, PWDs and other excluded groups, through capable local civil society organisations (CSOs) and organisations for people with disabilities (OPDs), are successfully influencing laws, policies, practices and norms for improved food security. VNG International is program partner of the consortium (led by ZOA), and focuses on Pathway 3; Engaging public authorities, through awareness raising and capacity developing activities, to actively engage with CSOs and OPDs to develop policies, laws and practices and set norms for inclusive (good) governance.
A need for more inclusive governance
Anne Marie enthusiastically shares how she became involved with WaA!: "I became a CCDC member with WaA! Before I was only a teacher (e.g. being a teacher in Burundi often does not generate enough income. As such teachers often have multiple jobs). When the programme started and the Permanent Executive Secretary and administrators were informed and trained on inclusive governance, they became aware of the fact that governance at that time was not inclusive and groups were in fact being excluded; including PWDs. They included me in the CCDC to represent and advocate for PWDs.
For Anne-Marie, it wasn't enough to be a member of the CCDC, as the real synergy of ideas occurred at the commune or colline level (Burundi has 18 provinces, 117 communes, and 2,638 collines. Colline means "hill" in French), where various perspectives converged. She explained, "It all begins at the commune level, working together with the CCDC, to aggregate the concerns of citizens within the commune and link them with the CCDCs. This collaborative approach at the CCDC level enables us to actively involve individuals with disabilities, ensuring that their needs are considered."
Nothing about us, without us
Today, thanks to WaA!, PWDs are involved and they are consulted on issues that concern them: "Before, when the authorities invited people to meetings and you came as a PWD, they would ask you to leave and the others would give you feedback on what had been said at the meeting. However, recently I was consulted, the local council wanted to know the value of orthopedic devices, tricycles and crutches. This shows that the local authority cares about the mobility needs of PWDs , and that from one moment to the next,  citizens with disabilities will be able to benefit from these items".
Inclusion through awareness and capacity building
In Burundi PWDs where traditionally considered to a be a burden to society.  According to Anne Marie, PWDs are no longer a nuisance in the Buganda commune: "Before, when a person with a disability  came to the commune, people would ask, 'What are you doing here?'. After learning about inclusive governance and about PWD, they included us in development programs and consider and value our contributions".
WaA! aims to include and empower people with disabilities. Anne Marie does not only represent PWDs, she also herself experiences the change in her daily life. She concludes "A lot has changed, not only at local authority level, but also in other departments. All the PWDs who work far from their homes have been brought closer to their locality. Personally, before the project, I'd been commuting 10 km a day since 2002. With this project in 2021, I've been redeployed to work close to where I live and in an accessible environment. Even the class I teach is different from other classes which allows me to perform/execute my work in the best way possible".