Aug 29, 2023 - Ukraine
Knowledge sharing with Ukrainian communities
The Spring Summer School program has been rolled out by the International Cooperation Agency of the Association of Netherlands Municipalities (VNG International) as a part of their "Support to Recovery, Rehabilitation, and Reconstruction of Local Governments and Communities in Ukraine" initiative. The program is in collaboration with the Association of Ukrainian Cities and is specifically designed for representatives of territorial communities in Ukraine.
The Spring Summer School is proud to host weekly webinars predominantly led by experts from Dutch municipalities, aimed at supporting Ukrainian communities. These informative webinars cover a wide range of topics, including agriculture, project management, energy efficiency, urban planning, infrastructure, and economical development. During the first webinar, Rotterdam shared their urban planning expertise, and since then, we have held over 15 webinars and trainings within just five months.
The Spring Summer School was fortunate to have hosted exceptionally skilled experts from a broad range of disciplines:
Urban planning, design and architecture:

Mattijs van Ruiven (Head of Department of urban planning, Rotterdam)
Annemieke Fontein (Head of Department of landscape architecture, Rotterdam)
Cees Donkers (Urban designer, founder of "The city as a lab" project,  Eindhoven).

Infrastructure & mobility

Gert Jan Polhuis, Khristiaan Leurs
Mykyta Biriukov (Mobility policy Advisor and Project leader, Utrecht)

Reconstruction and experiences from post-conflict stations:

Rawshan Atrooshi (Country Director of the VNG International office in Iraq)
Elger Vermeer (VNGi)

Public and Private partnerships

 James Winkler (Vice President for Economic Growth in Creative Associates International, USA)

Environmental issues, renewable technology and sustainable energy development

Vaagn Mnatsakanian (Urban, landscape and mobility Advisor, Arnhem)
Scott Sklar (Founder and General Director of The Stella Group, Ltd., USA)
Berend Jan Joris Bengevoord (Mayor of Winterswijk)
Nicky Eppich (European Affairs Advisor, Winterswijk)
Arjan Klein Nibbelink (Head of Department of sustainable development and inclusion, Winterswijk),

Project management & good governance

Gerard Overkamp (Representative of municipality Winterswijk),
Martje van der Kamp (municipality of Winterswijk)
Trudie Timmerman (Project manager, Utrecht)
Mark Ligtvoet (Manager project control, Utrecht), and Cees Donkers (Urban designer, founder of "The city as a lab" project,  Eindhoven).
These experts have generously shared their insights and knowledge during informative sessions, which have proved immensely useful for the participants. With the Spring Summer School we have reached 169 communities across 17 different regions in Ukraine. By participating in these sessions, 503 officials from 17 regions affected by the war availed themselves of the opportunity to attend weekly webinars, where they could gain further insights and knowledge on the subject matter. Such collaborative efforts play an important role in ensuring that communities and regions can be restored and rebuilt after the war.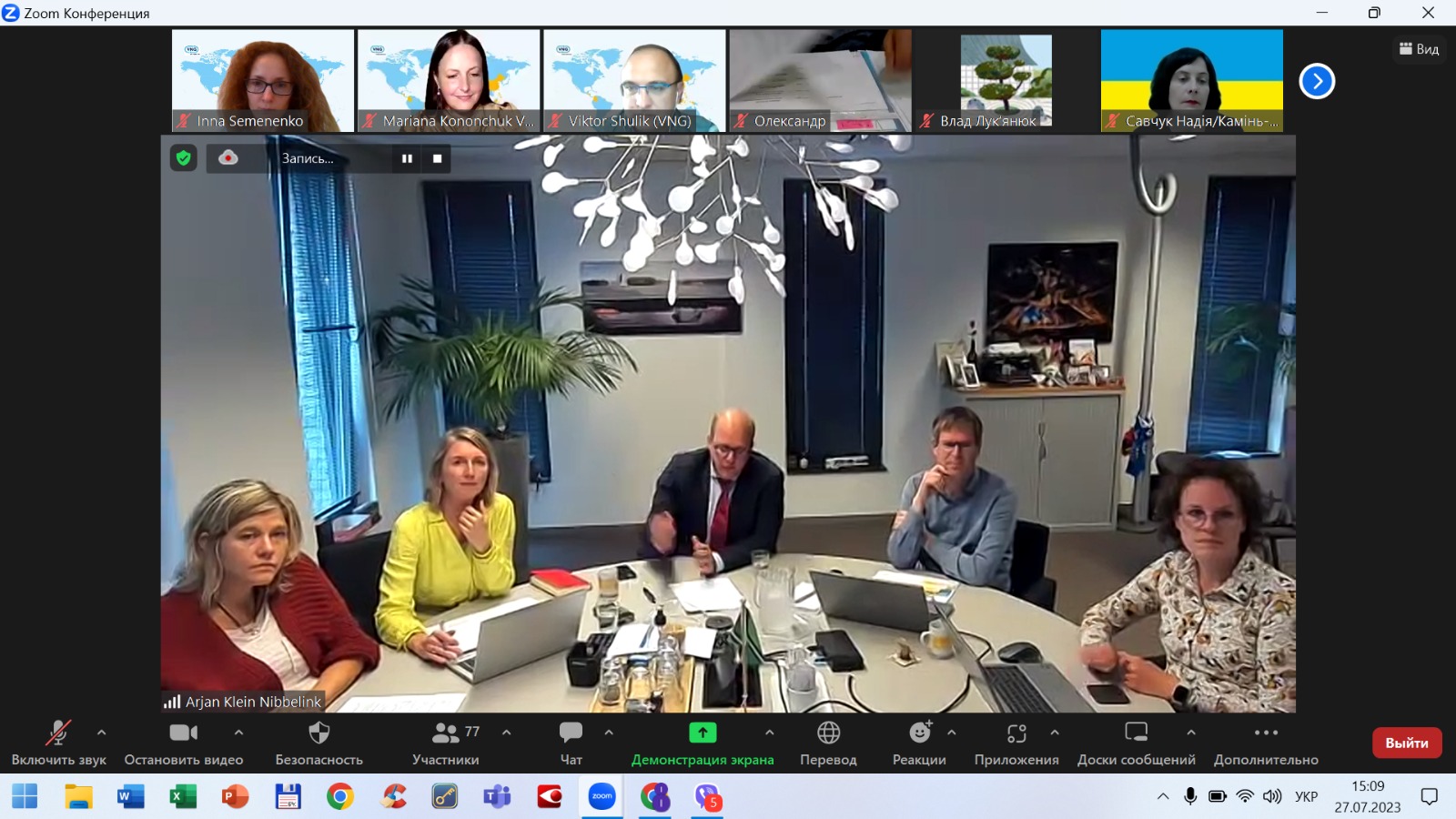 Dutch municipality representatives and other experts align their areas of expertise with the local recovery plans and needs of the territorial communities when selecting webinar topics. This ensures highly productive webinars and fosters valuable partnerships with Ukrainian territorial communities and Dutch municipalities.
In the upcoming period we will continue with the Spring Summer School, with a session on agriculture, policy and governance, hosted by the Municipality of Ede, upcoming Thursday. We will also be working on the finalization and formalization of the local recovery plans developed by the territorial communities, more information on this will follow soon!