Feb 20, 2019 - Somalia
From 6 to 8 February a delegation from Somaliland and Puntland visited the Netherlands as part of the EU-funded ASPIRE project of VNG International (Advancing Strong Partnerships for Inclusive and Resilient Economic Development). The participants visited the municipalities of Rotterdam, The Hague and Zoetermeer to gather knowledge and to find inspiration for initiatives to promote local economic development in their own country.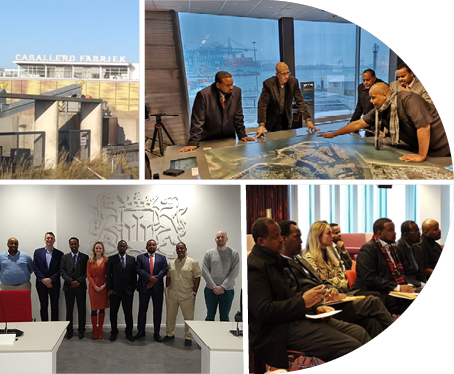 The delegation consisted of direct and indirect stakeholders of ASPIRE: the director of the Association of Municipalities of Somaliland (ALGASL), as well as the mayors of Hargeisa, Berbera and Bosaso, and local project staff.
Feyenoord City and the port of Rotterdam
In Rotterdam, the delegation learned about the public-private partnerships between the municipality of Rotterdam, Feyenoord football club, local residents and local entrepreneurs involved in the area development project Feyenoord City. The fact that a long-term vision is realized by implementing short-term projects proved to be particularly valuable for the Somali context. In the afternoon the delegation navigated over Maasvlakte 2 following a presentation about the lessons learned from the development of Maasvlakte 1. We concluded day one at the Port Authority of Rotterdam where port cities Berbera and Bosaso learned about the distribution of roles and responsibilities between the municipality and the Port Authority.
De Binckhorst in The Hague: from industrial area to innovative hub
After a visit to the VNG to strengthen lobbying skills and to hear how the VNG cooperates with municipalities and the national government, the delegation explored the Binckhorst on foot. The development of the Binckhorst shows how the municipality of The Hague works together with citizens and private companies to transform an old industrial district into a modern, creative and innovative city district where living and working is combined.
Entrepreneurship in Zoetermeer
On Friday, the participants traveled by tram to Ter Zake / Het Ondernemershuis in Zoetermeer. Meeting, sharing knowledge, working together and doing business is what happens on the spot. Ter Zake is an initiative of the municipality of Zoetermeer, where, together with entrepreneurs from the region, a better economic climate is stimulated. This is done by, among other things, job placement for the unemployed, and guidance for local entrepreneurs and startups in setting up their own company. The fact that a municipality can take a lead in this, was found interesting by the Somali mayors, who face major challenges in the field of (youth) unemployment.