Oct 11, 2022
Met Ethiopia Social Accountability Programme (ESAP) hadden we een mooie manier gevonden om mensen aan te zetten actieve burgers te worden die aan het stuur van de democratie staan. Het 'theatre for social accountability' maakte iets los bij mensen, bij hun gekozen vertegenwoordigers en bij de dienstverleners. Het liet zien dat de tijd was gekomen voor mensen uit alle lagen van de bevolking om mee te gaan doen in de lokale democratie. Het werd duidelijk welke democratische stappen de gekozen vertegenwoordigers, dokters, schooldirecteuren, landbouwvoorlichters, en water- en wegeningenieurs moesten zetten om diensten en infrastructuur toegankelijk te maken voor iedereen.
Na 7 jaar werd onze benadering geacht een rol te kunnen spelen bij het voorkomen van etnische conflicten die uit de hand dreigden te lopen. Het was mijn laatste interventie voor VNG in Ethiopië. Een volle zaal met burgers, lokale en regionale overheden uit alle hoeken van het land om te praten over de vraag of de ESAP principles van democratische dialoog en gezamenlijk actie te gebruiken waren voor conflictbeheersing. Ik herinner me wat Bogye, een vrouwelijke NGO leider die kort daarna overleed, aan het eind van de dag tegen me zei: "every time you make it possible for us to discuss taboo subjects." Mijn mooiste compliment ooit!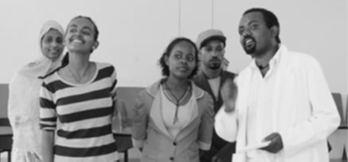 Lucia Nass
Frankrijk, 26 April 2022
As part of the publication 'Columns on peace and local democracy in international perspective', composed in honor of the farewell of Peter Knip as director of VNG International.