Apr 30, 2021 - Ghana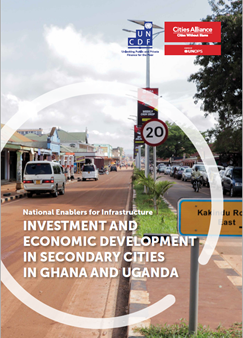 VNG International takes pride in featuring in UN Capital Development Fund's (UNCDF) report on investment and economic development in secondary cities in Ghana and Uganda. Our Tax Revenue for Economic Enhancement (TREE) project, implemented by us in 32 Ghanaian municipalities since 2017, is highlighted as an example of how enhanced data management contributed to a sharp increase in local revenue mobilisation (please read here).
In early 2021 the UN Capital Development Fund (UNCDF), together with the Cities Alliance published a report on investment and economic development in secondary cities in Ghana and Uganda.
The report features various projects that aims to support global and national dialogues addressing the obstacles to investment in rapidly growing cities by creating avenues for public-private partnerships. In conjunction with data and information on the development history of Ghana and Uganda, the findings of the studies are generalised to explore how efforts by local governments can be complemented by policies and initiatives of central governments to enable infrastructure investment and the promotion of local economic development.
The overall objective of the TREE is to realize a sustainable increase of local tax revenues to finance improved basic services to the citizens of the Metropolitan, Municipal and District Assemblies (MMDAs) involved. We do that together with our local partner MAPLE Consult, mainly by (1) improving the institutional capacity and procedures of each MMDA to collect revenues and diminish the tax gap; (2) implementing our custom-built IT solution 'TaxMan' in each MMDA to support the main tax business processes.
In 2021 TREE is aiming to realize further and sustained political commitment, leadership and project management expertise on ministerial level and in each MMDA to guarantee sustainability. This way we jointly contribute to Ghanaian President Akufo Addo's vision to 'build Ghana beyond aid' by improving domestic revenue mobilisation.
For more information, please contact Siebe Stellingwerf (siebe.stellingwerf@vng.nl), Vaidas Valikonis (vaidas.valikonis@vng.nl) or Thymen Ballering (thymen.ballering@vng.nl).