In the week of 28 March, the first DANWADAAG get together was organised in Nairobi, Kenya. It was the first time that the entire consortium was able to meet in person to discuss the progress of the programme. A total of 14 colleagues from all the different partners (VNG International, CARE, Free Press Unlimited and MediaINK) participated.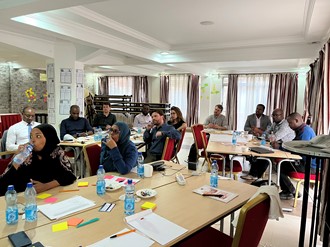 The programme of the retreat was packed with interesting training sessions and internal discussions. The kick-off meeting on Monday morning was hosted by an external expert and focused on getting to know each other better, followed by a training session on strengthening the consortium's communication skills with its stakeholders and increasing its ability to adapt to an ever-changing context (PDIA). The afternoon session discussed the Monitoring Evaluation and Learning approach of the programme, with a special focus on the Outcome Harvesting method and our lessons learned so far. This session was attended by two representatives from the Embassy of the Kingdom of the Netherlands in Kenya, the donor of the programme.
The second day of the retreat focused on mapping the most prominent risks, improving the horizontal links between the different pathways and finally the strengthening of partnerships with relevant local and international organisations and programmes.
During the last day of the retreat, the consortium discussed the gender and conflict component of their programme and the possibility of concretising this element through the Gender Marker, a tool developed by CARE.
Despite (or thanks to) the full agenda of the retreat, the event was very successful. All partners emphasised that it was very important and useful to meet each other in person after a long time of online meetings and were very enthusiastic about making further improvements to the programme.