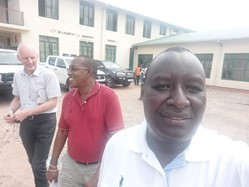 This January, VNG International, together with aid organisation ZOA, has launched the "Amahoro@Scale" project in Burundi. The project focuses on the improvement of land governance in the Makamba province of Burundi (Amahoro means "land" in Kirundi, the national language of Burundi). Makamba is a province in the south of Burundi, bordering Tanzania. It is characterized by trade and migration. Moreover, the province hosts many refugees, which creates a need for conflict resolution and mediation on land disputes.
Land ownership is crucial for a country such as Burundi, where 90% of the population lives from agriculture and hence depends on land. In a context of rapid population growth, population displacements, deteriorated and infertile soils and political and economic fragility, the majority of conflicts are land conflicts (80% of pending cases before the courts are land disputes), between neighbours, repatriates and residents, private and state owners, and members of the same family.
Whereas the root causes of land conflicts are multiple, the primary problem is the lack of good and inclusive land governance. The project seeks to contribute to a more equal and effective system of land governance by addressing the following: the limited capacities of the district administrations in terms of knowledge, skills and means to deliver services related to land; the little to no knowledge among the population of existing (women's) land rights and its procedures; the absence of a law on succession; the many families that fail to divide their family land; the limited capacities of courts to treat land conflicts in a harmonized way (lack of jurisprudence); and the limited capacities of local conflict resolution mechanisms.
Within the programme, VNG International focusses on formalizing land management practices into laws and policies, improving the land management and registration systems, and ensuring the delivery of public services in the field of land governance is more cost-effective. District authorities are strengthened with clarified roles and responsibilities, and increase their interaction with, and accountability to, all actors involved in land governance at the local level. This model shall be rolled out to all 119 municipalities in Burundi.
"Amahoro@Scale" is a project financed by the Netherlands Enterprise Agency, RVO, and runs until mid-2025. ZOA is the lead in the project.