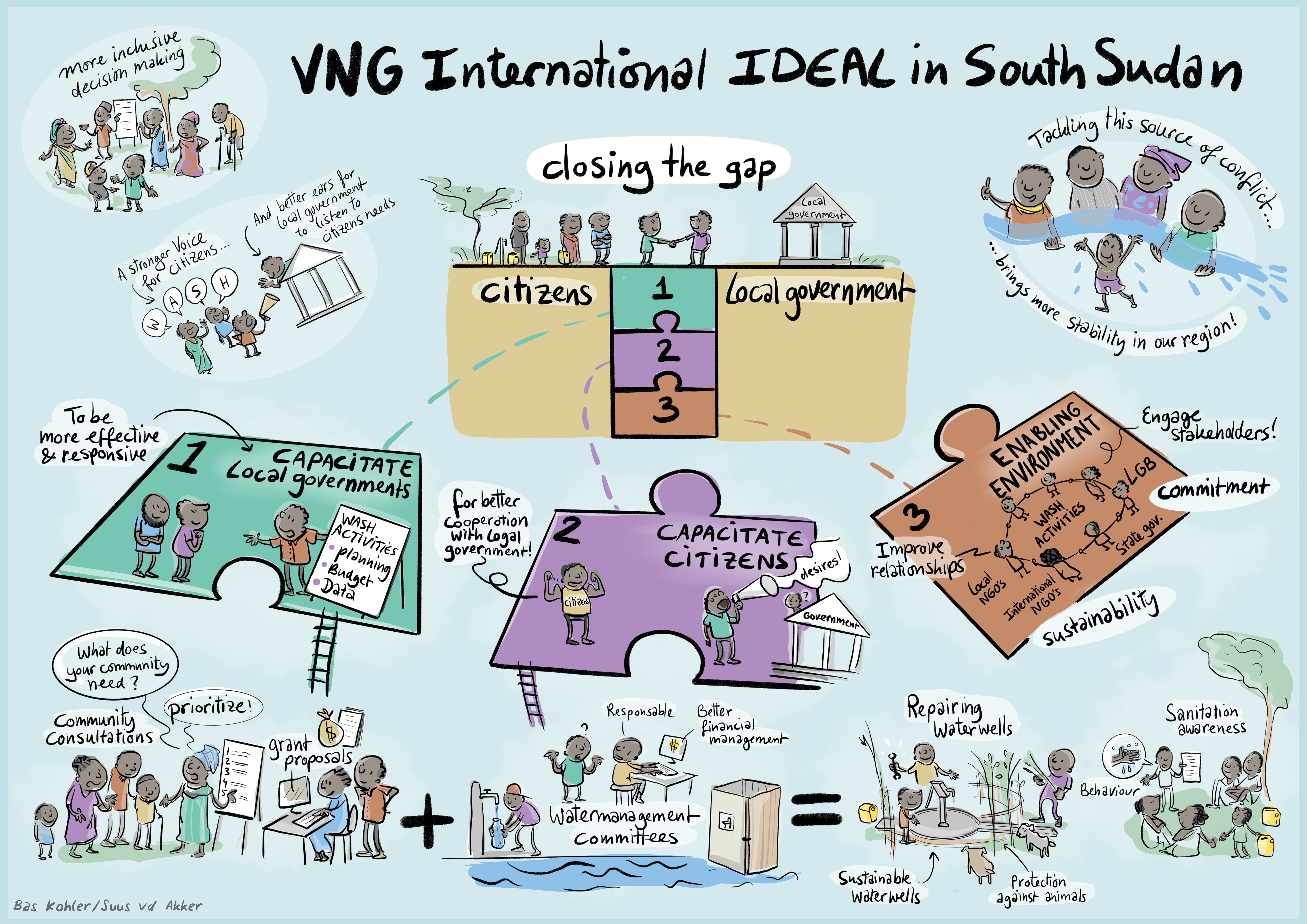 Since 2017 VNG International's Inclusive Decisions at Local Level (IDEAL) programme has been focusing on bridging the gap between local governments and the citizens of three counties in southeastern South Sudan. Local governments representatives, civil society and citizens of the three Kapoeta counties have made significant progress in inclusive decision-making on water sanitation and hygiene themes. Citizens and civil society alike have been trained to voice their WASH-related needs and rights towards their local authorities. In turn, these county governments received training and support to recognise and better respond to citizens' needs.
How to better demonstrate this than with an illustration?
Water, sanitation and hygiene related problems have been a source of conflict between citizens themselves, but also between governments and citizens. The illustration shows the building blocks for closing the gap between citizens and local government in the Kapoeta's.
Firstly, IDEAL South Sudan aims to capacitate local governments to be more effective and responsive to citizens' needs – for instance by training them to consult with the community and prioritise accordingly.
Secondly, IDEAL targets civil society and citizens to better cooperate with local governments – for instance by ensuring that user-led Water Management Committees will report to local governments consistently;
Thirdly, by creating an enabling environment in which all WASH partners, including humanitarian organisations, the Local Government Board, and traditional authorities, accept the coordinating role of local governments and work together to create sustainable WASH solutions.
Through the IDEAL programme, three county governments in Eastern Equatoria engage in more inclusive decision making for water, hygiene and sanitation service delivery; cost recovery schemes for water management committees have been introduced, and local governments are a regarded as more legitimate because of their responsiveness to citizens' needs. In turn, tackling WASH sources of conflict contributes to more stability in the Kapoetas.
VNG International's inclusive decision making approaches for local governments in fragile states are currently also implemented in Mali, Somaliland, Burundi, Palestinian Territories and Rwanda under our flagship IDEAL programme.
For more information on IDEAL South Sudan, please contact: Miriam Collaris (miriam.collaris@vng.nl) or Thymen Ballering (thymen.ballering@vng.nl).