On Thursday 9 July, the IDEAL team organized the first Advisory Board of 2020. Some members of the Board and the IDEAL team participated online whereas others visited VNG's office in The Hague: the chairman and mayor of the Dutch municipality Rheden, the Ministry of Foreign Affairs as well as the Netherlands Institute of International Relations Clingendael.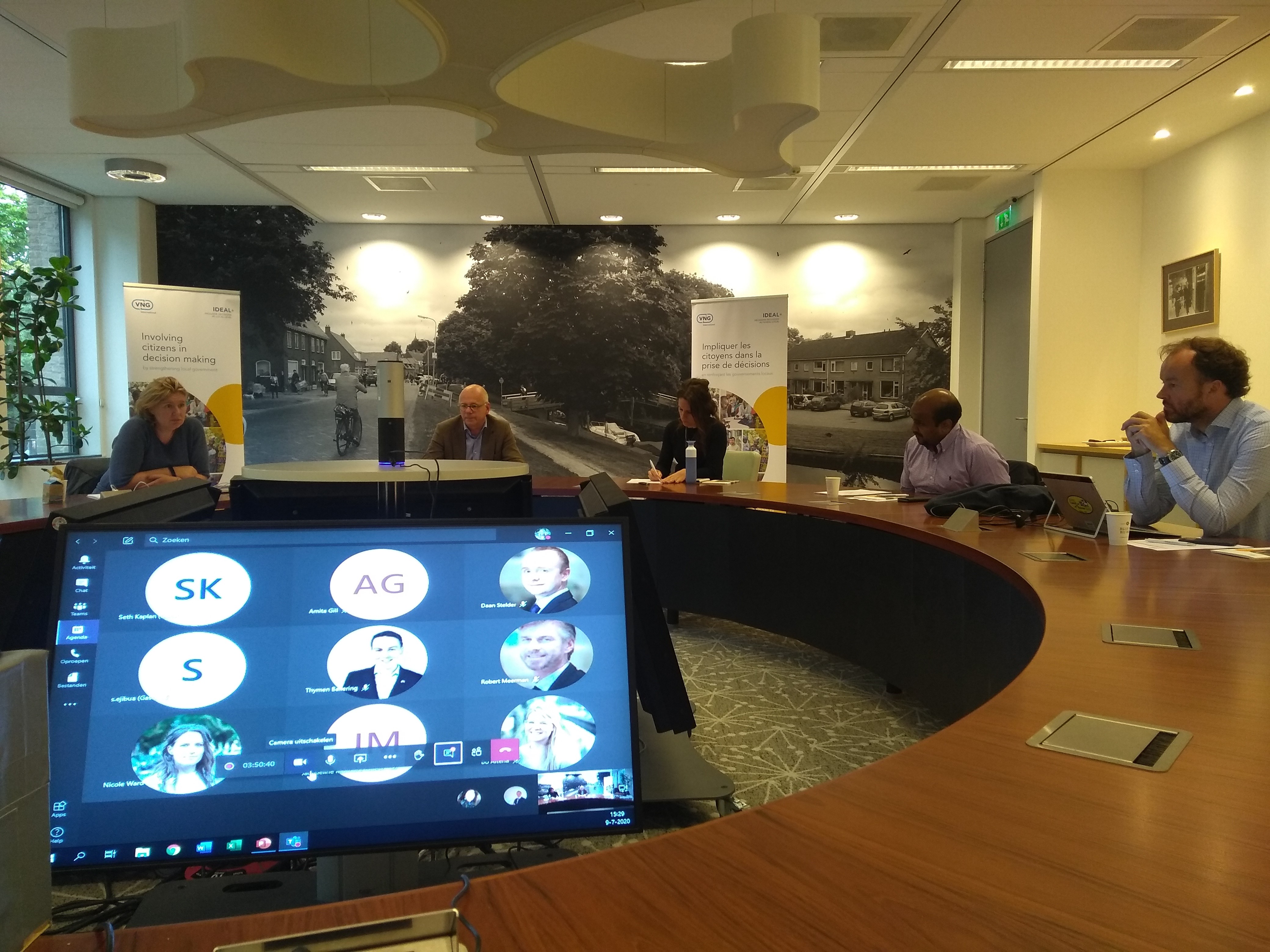 We kicked-off with a presentation from London by the Overseas Development Institute (ODI) about the latest findings from the Secure Livelihoods and Research Consortium (SLRC). This Consortium programme with 15+ organisations, led by the ODI, was established in 2011 and funded by DFID with co-funding from the European Commission and Irish Aid. The research focused on conflict-affected areas in several countries including IDEAL countries Uganda and South Sudan. Whereas the original research themes consisted of livelihood trajectories, state capacity and state legitimacy, the second phase (2017-2020) especially focused on questions around behaviour. Perceptions, state-building and continuing instability of livelihoods. Service delivery has been an important component throughout all the research. We have held the research against IDEAL's Theory of Change to see what lessons can be drawn from the results benefitting the remainder of the IDEAL programme.
Some important conclusions from the research:
•    State legitimacy is not transactional, it is co-constructed between state and citizen.
•    Access to, or satisfaction with a certain service only matters if that service gains salience in the negotiation of state legitimacy.
•    The extent of legitimation that a state directs at a group depends on how central that group is to the political settlement.
•    When a state increases access to services for previously excluded groups, state legitimacy is not necessarily strengthened.
•    The social contract (between state and society) is not uniform across groups and therefore we cannot assume that investment in basic services will necessarily repair a broken state-society contract. This is especially the case where a state continues to repress certain groups.
Source (SLRC & ODI): https://securelivelihoods.org/publication/what-matters-to-people-when-recovering-from-conflict/ 
During the second part of the meeting all the IDEAL countries presented their most important (behaviour) change  stories which were collected during an outcome harvesting exercise in Q2. We closed the meeting by touching upon the effects of COVID-19 on IDEAL and the ways in which we have addressed them: we have come up with innovative training modalities such as a remote Training-of-Trainers via digital platforms and we initiated an online exchange between municipalities in Uganda and the Netherlands on 'How (not) to deal with the corona crisis?'.