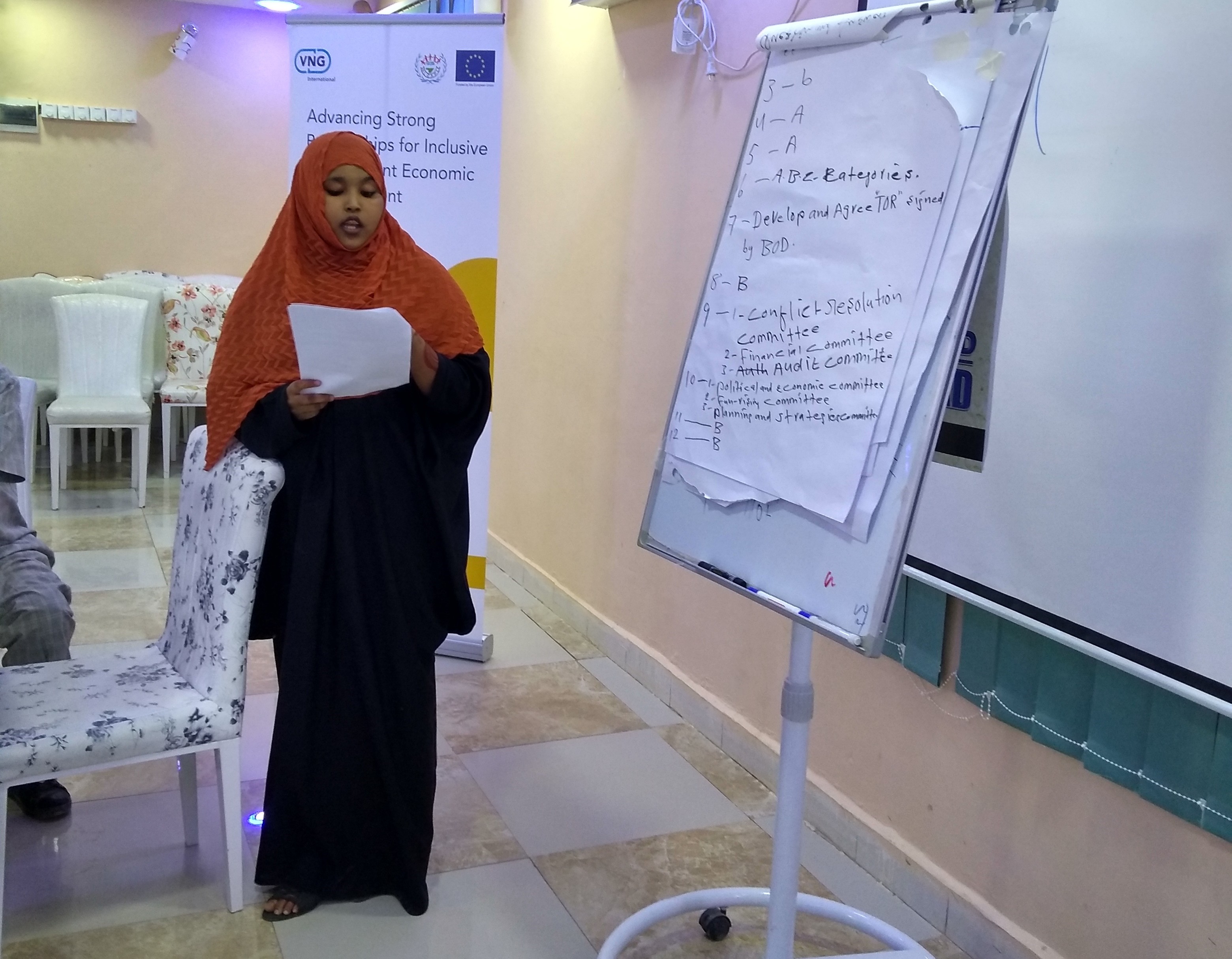 During the second half of March 2019 VNG International staff travelled all the way to Puntland, the outer edge of the East African continent. The visit took place in light of the ASPIRE project that is implemented together with the Somali Institute of Research (SIRAD). During a workshop the first steps were taken toward a revised constitution of the Association of Local Government Authorities in Puntland (ALGAPL).
On 20 March 2019 VNG International in collaboration with SIRAD organized a workshop with and for ALGAPL. The workshop entailed a consultation session about the revision of the ALGAPL constitution in which both the secretariat and the Board of Directors participated. The mayors of Bosaso, Iskushuban, Eyl, Bender Beyla, Waaciye, Qardo, Dangaroyo, Boocame, Garowe, Burtinle and Widhwidh all came to Garowe to express their opinions.
The workshop commenced with introductions by the Executive Director of ALGAPL and the mayor of Garowe who also chairs the association. This was followed by a comparative analysis of constitutions of Associations of Local Government Authorities around the world. The analysis demonstrated both great overlap and differences between countries and constitutions. Some of these examples were found very interesting by the mayors. The consultation session focused on several aspects of the constitution among which membership criteria, sustainability of the association and the set-up of committees.
During smaller group sessions districts discussed the key elements and filled out individual questionnaires. The results provided some food for thought. Whilst the majority of districts opted for standing and/or ad hoc committees that are inclusive, representative of all categories of districts and open to both male and female members, the districts unanimously decided the BOD should be composed of founding members only. Moreover, districts stated they were willing to pay for specific services delivered by ALGAPL next to direct payment of their annual membership fees.
The questionnaires are currently being evaluated. The outcome will be translated into a set of draft amendments to the constitution. These proposed amendments will be shared in a second session with the secretariat and BOD after which we will hopefully be able to proceed with the validation.